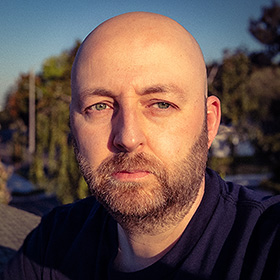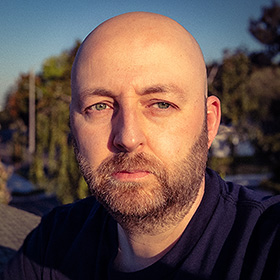 Two-time Emmy winner with 18 years of industry experience
Good instincts. Broad creative experience. Humble and respectful. Values teamwork. Leadership experience. Meticulous eye for detail. Passion for exploring innovative storytelling opportunities.
Experience
November 2020 to January 2021
Compositor
A one man comp team responsible for compositing and visual effects on the second season of the Adult Swim animated series Momma Named Me Sheriff, a spinoff of the cult hit Mr Pickles.
Freelance San Francisco Bay Area, CA.
June 2006 to Present
Motion Graphics Designer / Animator / Compositor / Director
Commissioned for a range of projects from product launches, to explainer videos, to museum exhibits. Extensive experience telecommuting. Reprised my Archer motion graphics role on a freelance basis for the show's tenth and eleventh seasons.
Clients include FX Networks; Manchester United; Lexus; Royal Bank of Scotland; Floyd County Productions; Brighton Museum & Art Gallery; The Fryderyk Chopin Museum, Warsaw; Umbro; Her Majesty's Revenue & Customs Museum.
ATTN: Los Angeles, CA.
April 2020 to October 2020
Lead Compositor / Title Sequence Animator
Lead compositor and Title Sequence Animator on Your Daily Horoscope, a hilarious daily animated show for the innovative mobile streaming service, Quibi.
January 2019 to April 2020
Lead Compositor / Animator
Worked full time at the innovative, character-first entertainment studio which uses technology and art to build engaged audiences online. Shadows Interactive creates personality-driven, fictional stories and delivers them to your mobile device.
Worked on 100 episodes of the Emmy Award winning FX series Archer. Tackled multiple ongoing projects and ever-present deadlines in a fast paced, team-centric production. Occupied a number of senior roles…
July 2014 to April 2018
Transmedia Director / Creative Director
Took an informed risk and reached beyond my motion graphics role to steer the studio into an era of interactive storytelling.
Founding member and Creative Director of the Interactive Transmedia Storytelling team which expanded the Archer universe, reached out to fans in innovative new ways, and helped promote the show.
Devised, developed, and directed three large scale interactive productions: the two-time Emmy Award winning multiplatform ARG experience Archer Scavenger Hunt 2015 and Archer Scavenger Hunt 2016, and the two-time Clio Gold Award winning iOS & Android AR app Archer, P.I. (2017).
Responsible for orchestrating the overall vision of each production. Deeply involved in all aspects from start to finish.
Wrote clear and concise presentation packages (inc video narration) to submit the projects for award consideration.
Co-presented two successful 12 minute presentations to a jury of experts at the Television Academy in 2015 & 2016.
Interviewed on NPR's Marketplace Tech Report about the story and origins of Archer Scavenger Hunt.
June 2013 to April 2018
Lead Motion Graphics Designer
The studio's first and only Motion Designer during my tenure.
Interviewed by Art Of The Title about my contribution to the opening titles, which are recreated each season.
Created all Motion Design and Sci-Fi UI content for Archer and other shows the studio produced.
Designed and animated UI elements for the Archer, PI app. Worked with a team of developers to prototype and optimize for live code.
July 2010 to June 2018
Animator / Senior Animator / Compositor
Duties included scene setups, character rigging, character animation, compositing Flash and Harmony scenes in After Effects, and VFX compositing.
Established VFX looks, color grades, and user friendly templates for future use by myself and other After Effects compositors.
Promoted to a Senior Animator in 2011 and mentored a team of animators.
July 2009 to April 2010
Animator / Compositor
Worked on the first season of Archer under the employment of cult animation studio Radical Axis, creators of Aqua Teen Hunger Force. I also worked on the Adult Swim show Squidbillies as a compositor.
October 2002 to June 2006
Motion Graphics Designer / UI & UX
Worked on museum exhibits and social awareness campaigns at a leading UK production company.
Created motion graphics for DVDs, apps, web, and large scale multi-screen audio visual experiences
Developed a strong understanding of TV / 10-foot design and its differences to web and print
Designed rich user interfaces for touchscreen interactive exhibits
Clients included Astra Zenica; BBC; Museum of Science & Industry, Manchester; KPMG; Wimbledon Lawn Tennis Museum; Hong Kong Wetlands Park; UK Department of Health; National Space Centre.
Honours
Expertise
Motion Graphics, Compositing, Graphic Design, Animation, Directing, Creative Directing, Video Editing, UI, UX, Interactive Design, Transmedia Storytelling, Illustration, 3D, Photography, Videography, Photo Retouching, Color Grading, Sound Design, Music.
Software
After Effects, Photoshop, Illustrator, Cinema 4D, Lightroom, Sketch, Adobe XD, Keynote, Premiere Pro, Final Cut Pro X, Audition, Dreamweaver, InDesign, Lightroom, Animate/Flash, Xcode, Unity, HTML, CSS, Javascript.
Education
1999 to 2002
Bachelor of Arts degree. Design & Visual Arts / Graphic Design (Graduated with First Class Honors)
1997 to 1999
GNVQ Advanced Graphic Design. A Level Art & Design. Centra Life Drawing. City & Guilds Desktop Publishing