2017
FX Networks
Archer, P.I.
Animation / Creative Direction / Motion Design / Quality Assurance / Sound Design / Transmedia / UI & UX / Writing
Archer is an Emmy Award winning animated comedy on FXX. Originally set in the world of international espionage, season eight is a 1940s noir detective story that unfolds entirely within Archer's comatose mind.
To complement the viewer's experience, I devised the concept of Archer, P.I. – a proprietary and groundbreaking Augmented Reality game that interfaced directly with a TV show in a way that had never been attempted in the history of television. Each week, the game revealed a supplemental and interactive narrative that was hidden in the episode and only accessible via the game. The player used their phone's camera to collect items directly from the episode and use them in the game to play through the narrative, unlock puzzles, and solve cases.
This unique and innovative approach to audience engagement was recognised in 2017 when Archer, P.I. won two Clio Gold Awards for Game & App in the medium of Television/Streaming: Digital/Mobile, and in 2018 it was honored as a Shorty Award Finalist. It also secured a Shorty Award Nomination and a Webby Award Nomination (coming in 2nd behind Star Wars™: Jedi Challenges for 'Best Use Of Augmented Reality').
The 'archer' team made an app that could change the way we watch TV.
Uproxx
They're taking that extra-screen experience to a place not seen on a television show before.
Pedestrian.tv
Step on it!
I conceived the idea of Archer, P.I. quite late into the production of season eight. The game was designed to accompany the new season, but there were just four months before it aired on TV, and at that point the app was just a thought in my head! There was also no blueprint to follow – no one had ever made an app that interfaced with a TV show using AR, so exactly how that should work would need to be figured out too.
After a pitch to the show's producers I was given the green-light to proceed. We assembled a small dream team from our in-house crew, set our current projects aside, and set to work in a race against the clock!
Luckily we had a few shortcuts due to the game being produced under the same roof as the TV show. This was advantageous in a number of ways and we hit the ground running with:
Experienced crew. Our team knew the show's canon back to front and had a deep understanding of what our fans were looking for based on our previous Emmy Award winning interactive work.
Veteran artists. New character, prop, or background art could be created both quickly and accurately on-brand by the same experienced artists that work on the show.
Pre-existing artwork. Large portions of the artwork could be borrowed and adapted directly from the upcoming season.
Up to date reference material. New episode scripts and storyboards were instantly available to our team – vital in a companion game so closely knitted to the season narrative.
Constant quality control. We checked our in-episode AR targets at various stages of production to confirm that they still worked or provide fixes if they didn't (due to lighting changes, scene reframing, etc).
Instant answers. Questions about an upcoming episode or an idea for the game could get an instant answer from the show's executive producer, who literally worked in the next room.
All of these in-house advantages were vital to getting the app made on time. If it was farmed out to a 3rd party studio like other games based on popular TV franchises, the natural delays and bureaucracy inherent in round trip communication, asset procurement, AR testing, and studio approval would have made the four month task virtually impossible.
Wearing many hats
My main role on the app was Creative Director and I was responsible for orchestrating the overall vision. I was deeply involved in almost all aspects of the apps creation – from game mechanics to character dialog, from sound design to animation, from web design to user interface. I also directed a team of artists who created bespoke backgrounds and characters. Below are some examples of the UI that I designed and developed. Click here for a deeper dive into my UI & UX work on the app.

A new adventure
You play as Archer's new partner with eight cases to solve using clues found in companion season eight episodes. The gameplay is similar to classic point-and-click adventure games, complete with familiar characters and strange interactions. The innovation is in how you collect characters, items and locations: by finding them in the show then pointing your mobile device at the TV screen.
Learning the ropes
The game begins with a brief and simple tutorial which guides the player through the basic game mechanics, from collecting items using the AR Camera to interacting with them in the inventory. We kept this as short as possible, but considered it an important step considering how relatively new AR was at the time and how a sizable portion of the audience might not be familiar with point & click style adventure mechanics.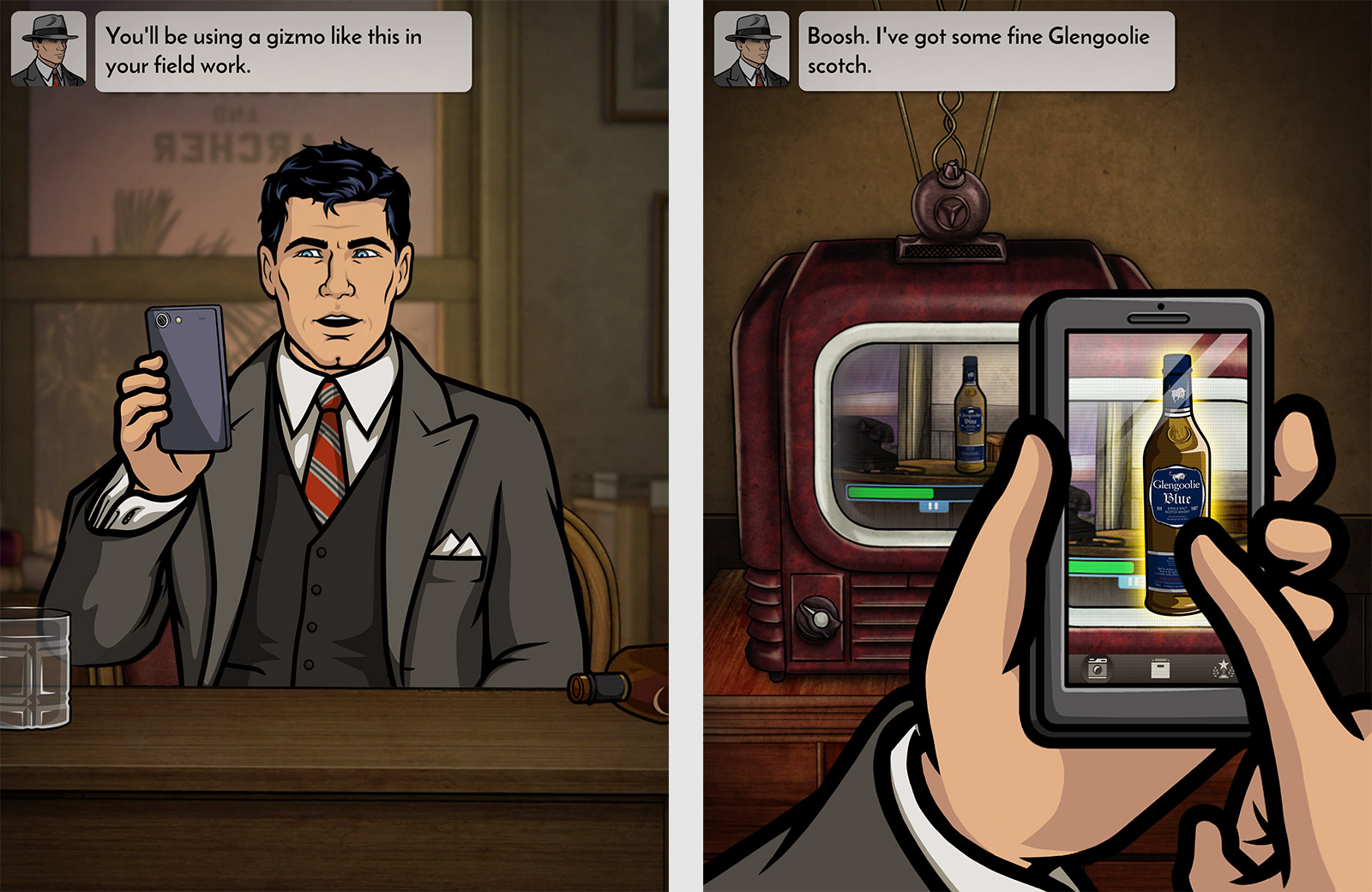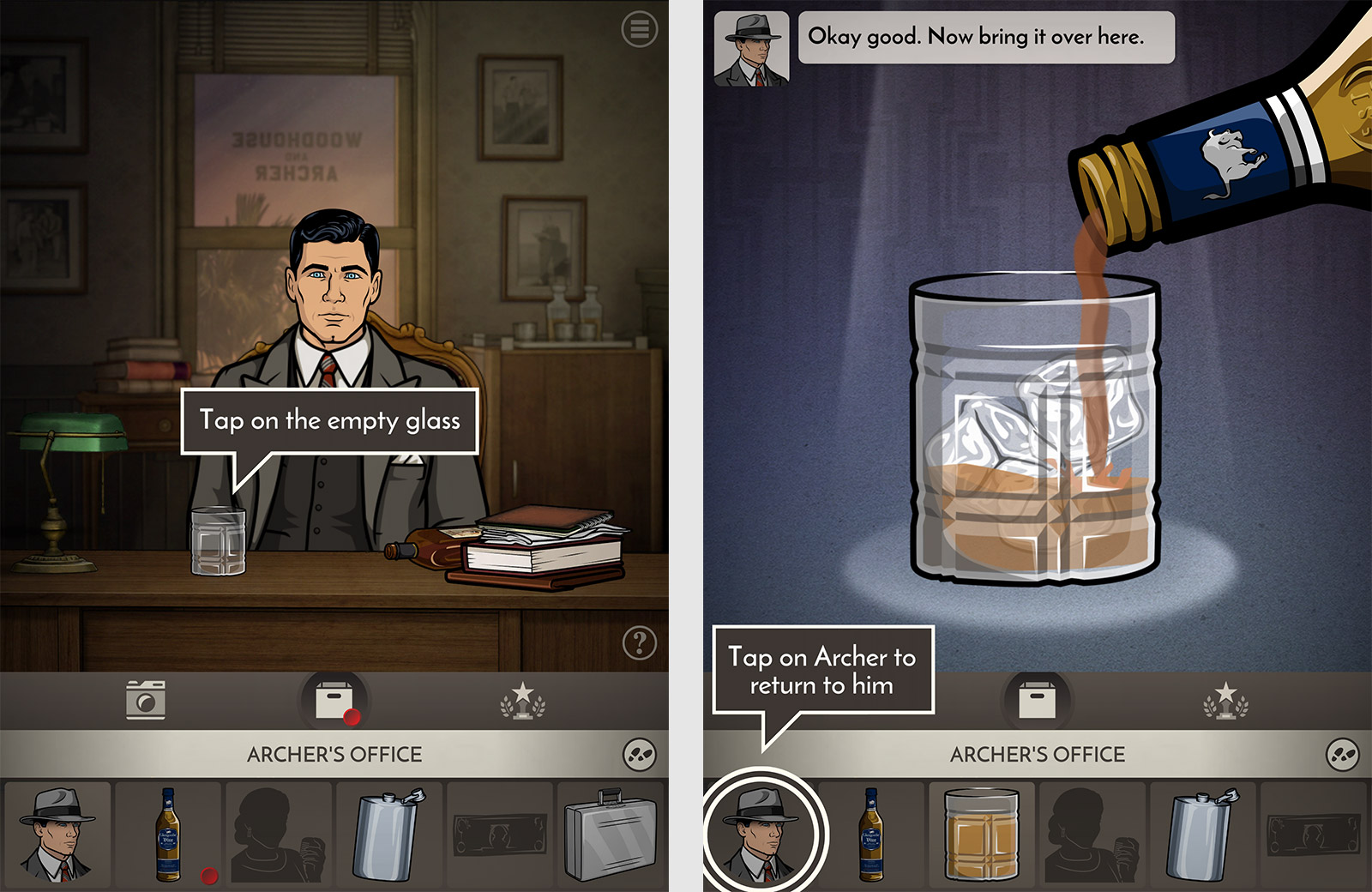 Example Case: Ruff Customer (played with Season 8 Episode 1)
The first case involves a missing dog, and is quite an easy one to get started with. For brevity, the walkthrough only shows key interactions and does not include all dialog, gameplay or character interaction.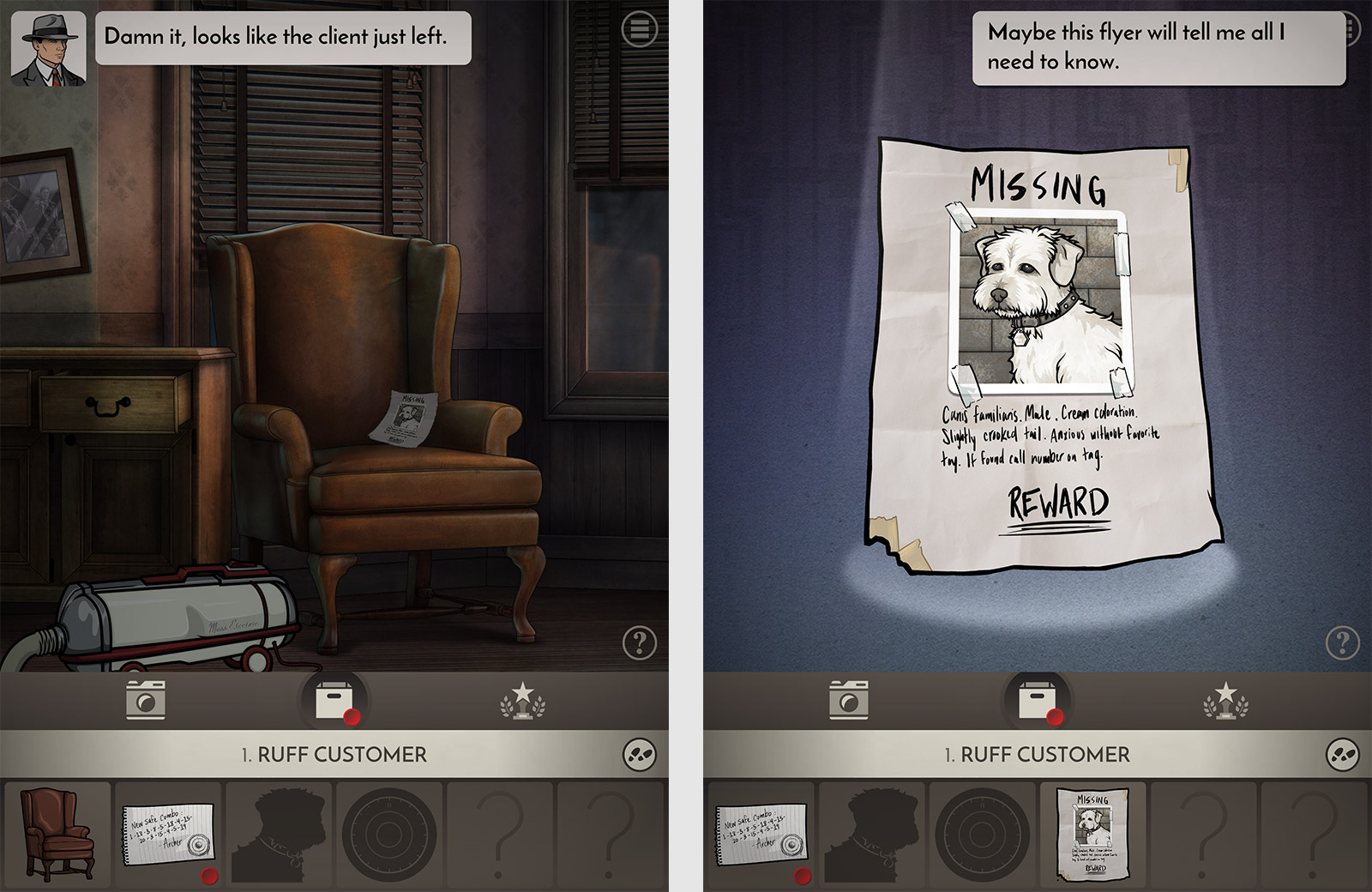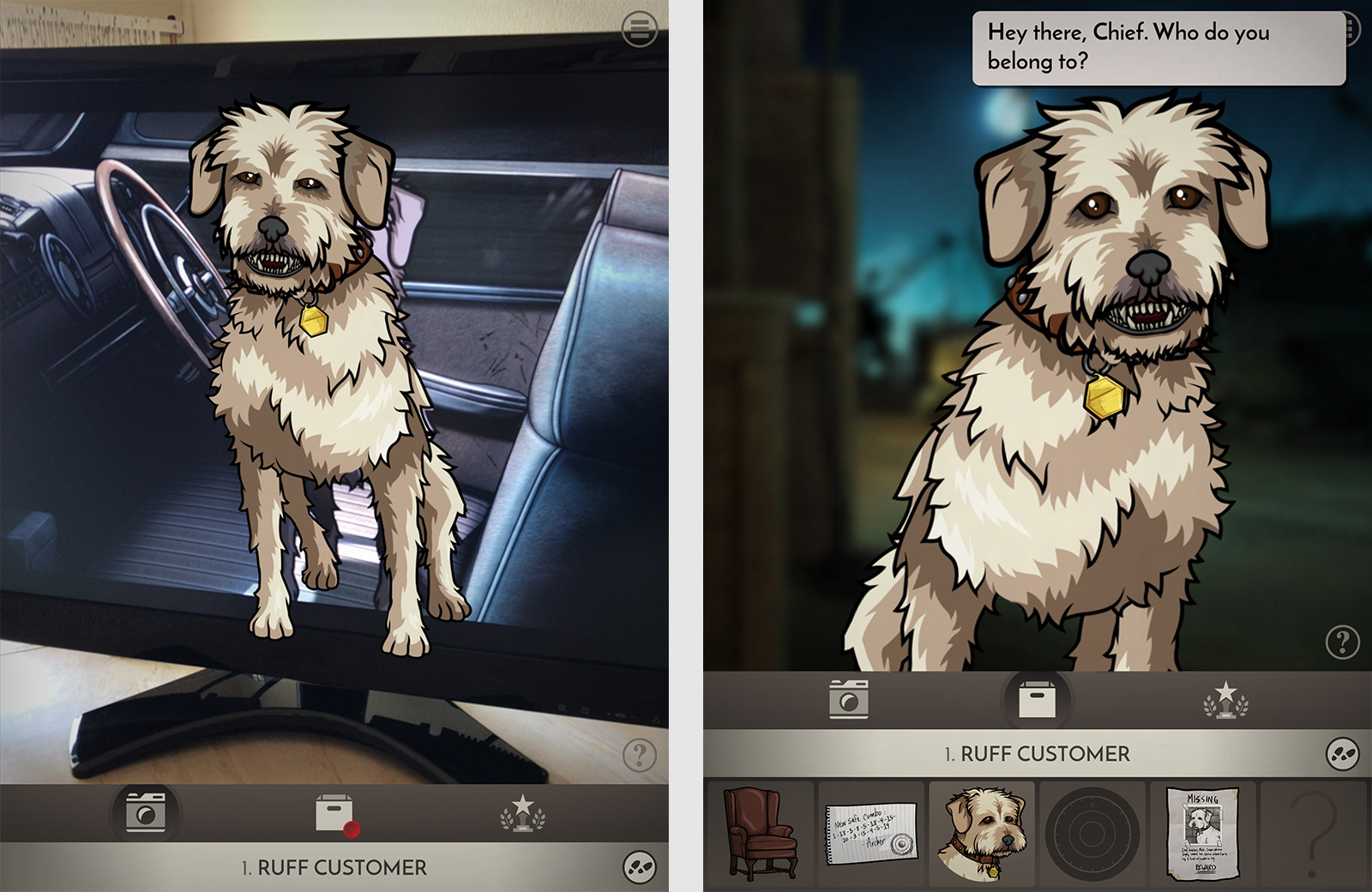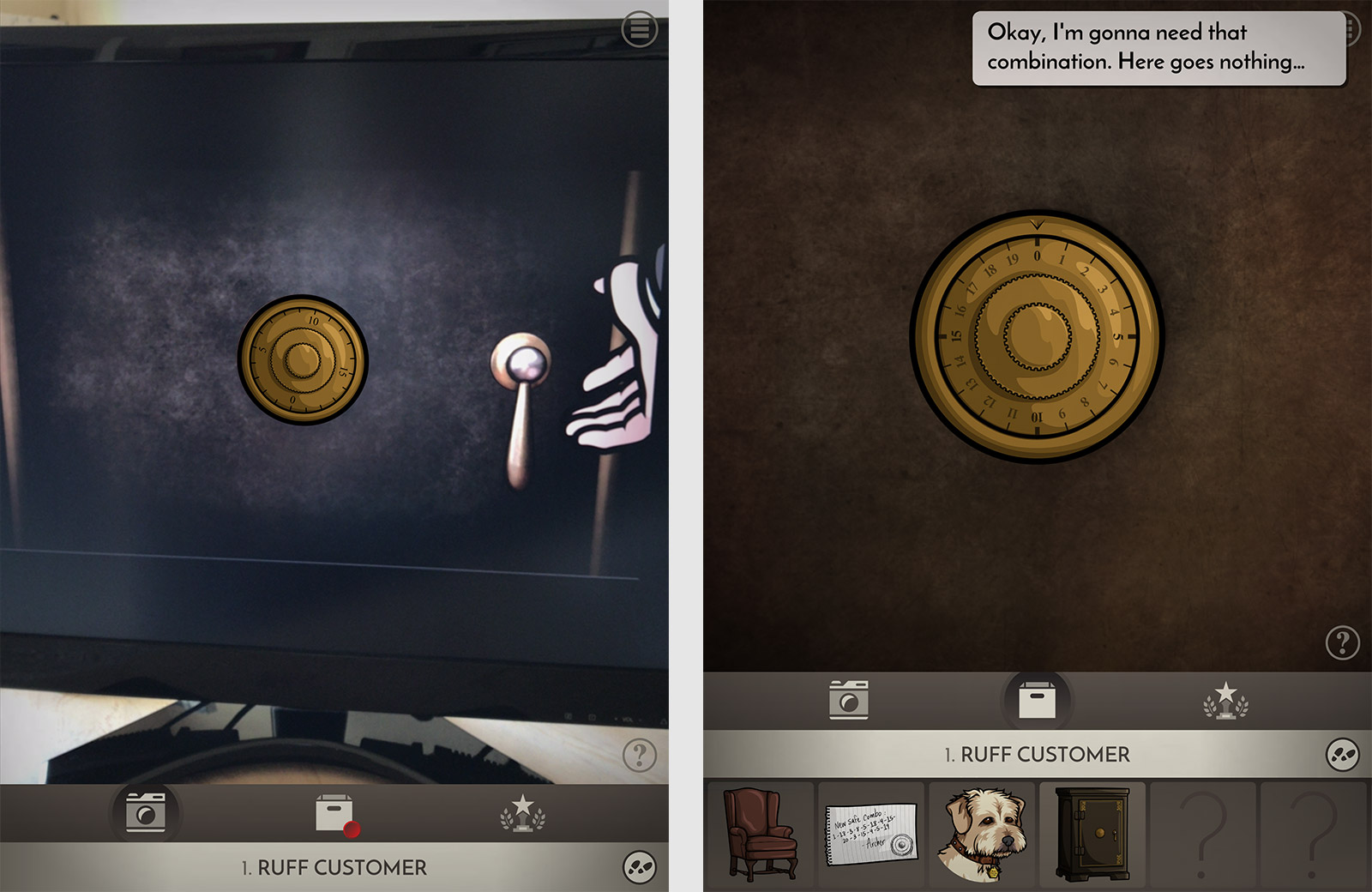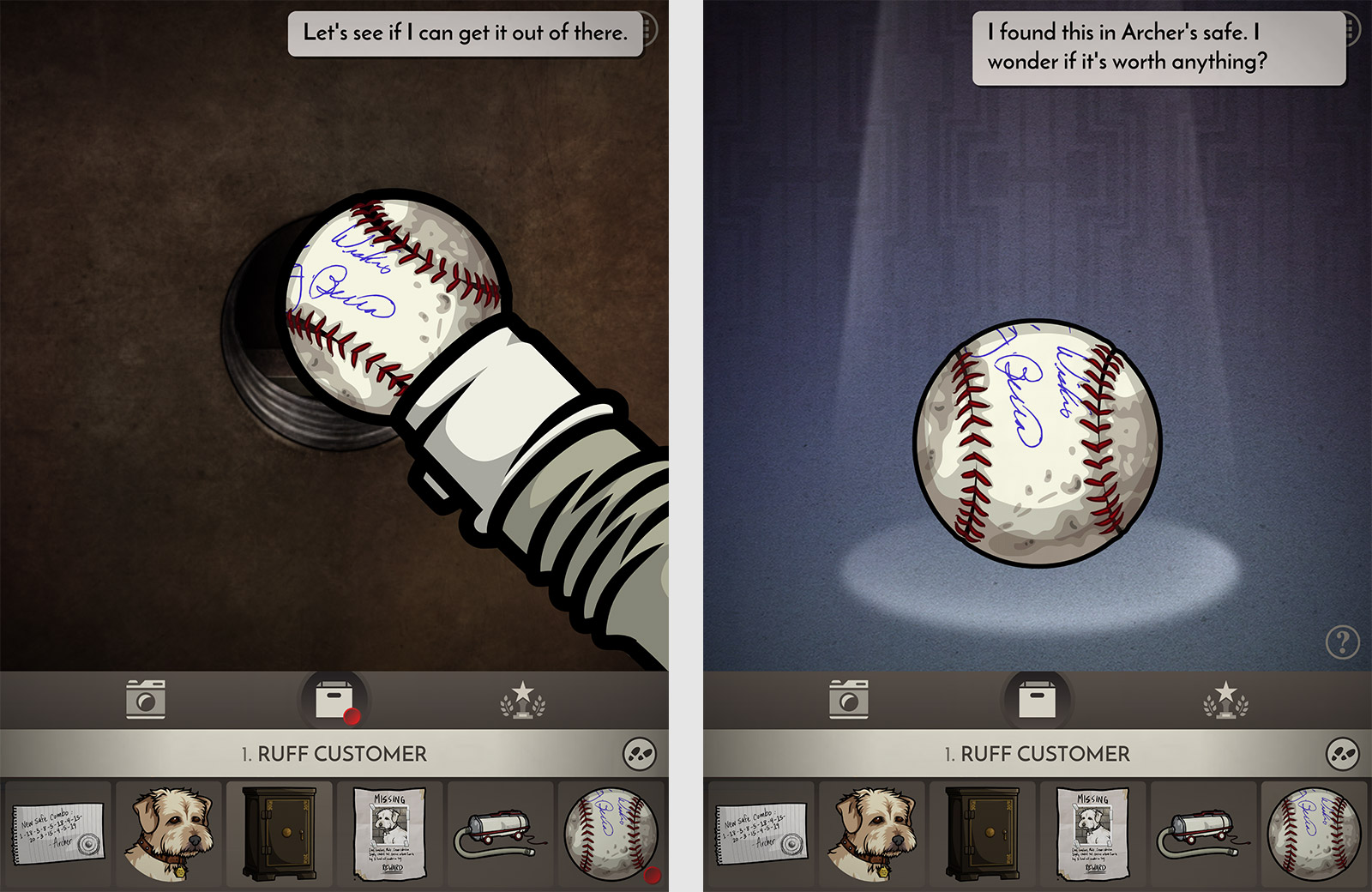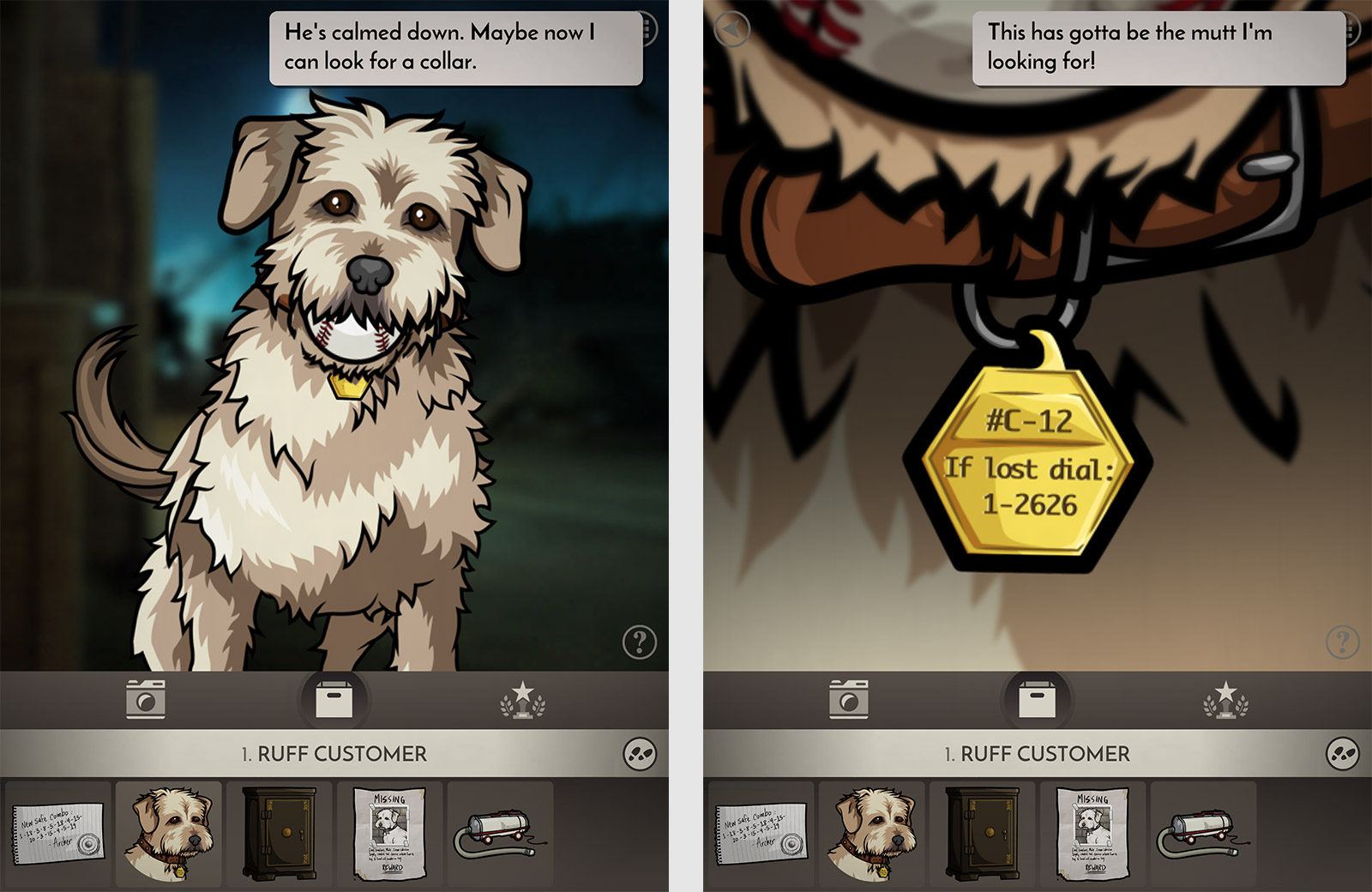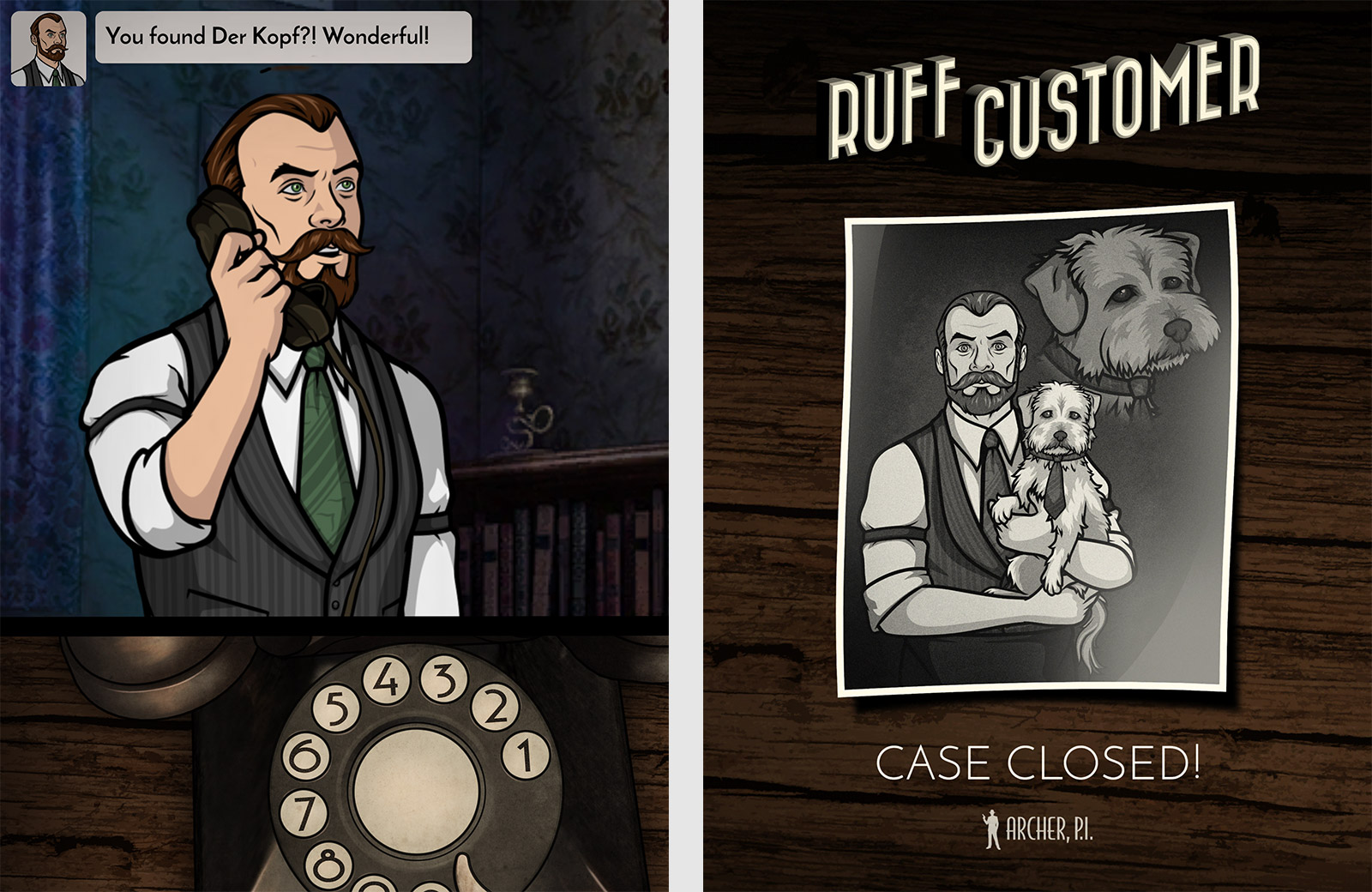 Dear Diary
The app also expands the shows narrative directly. I pitched the idea of being able to read Archer's war journal in the app – an item that's mentioned in the show but never actually seen. I was expecting one of the producers to actually write it but they were too busy making the TV show, so that weighty task fell onto my lap! Although a little hesitant at first (I had some big shoes to fill) I embraced the challenge before me. It was a great thrill to be given the chance to write extensively in Archer's voice, and the producers approved it with only one or two minor notes. I also directed Archer illustrators Chi Duong Sato and Kathryn Hudson who did an awesome job bringing it to life.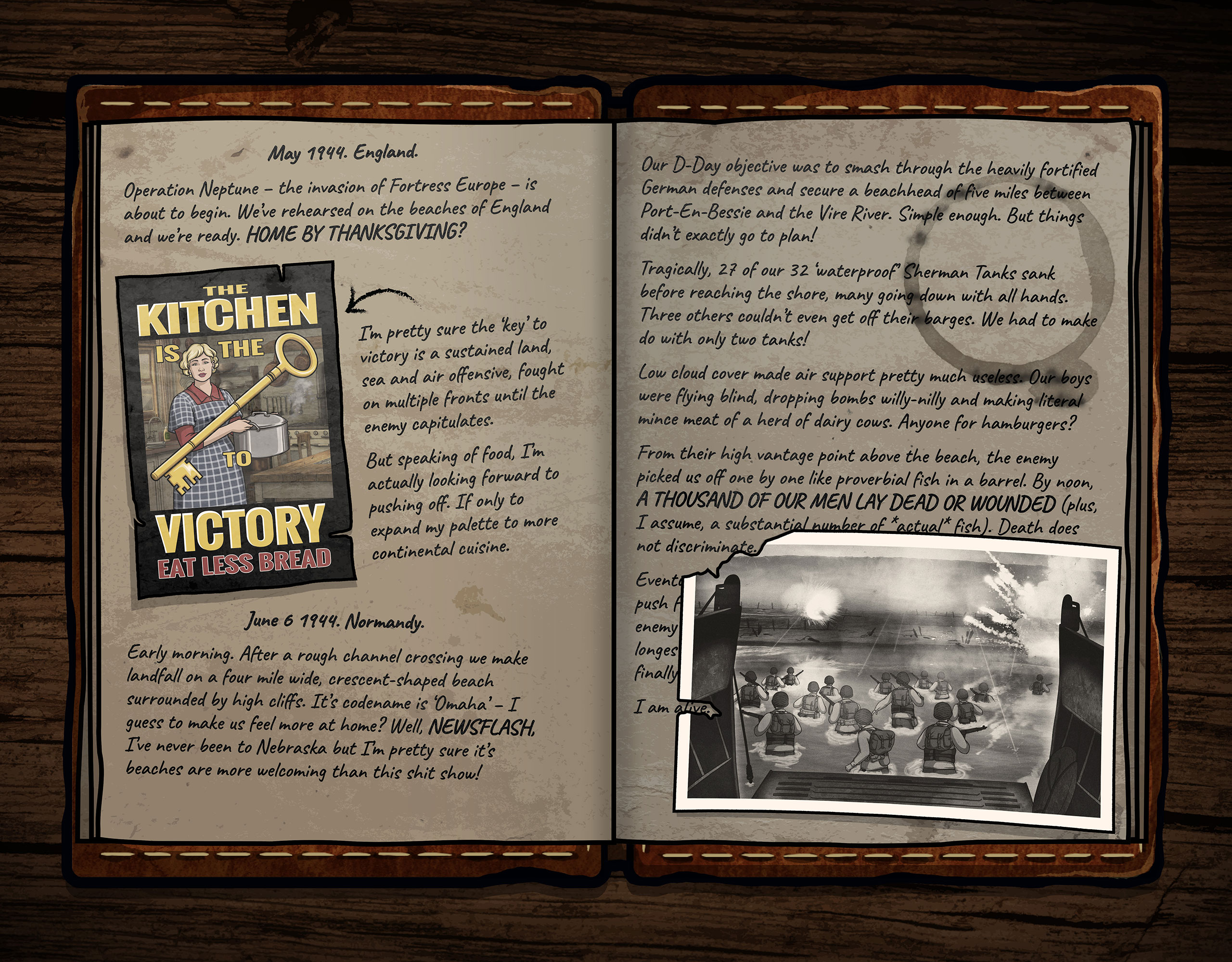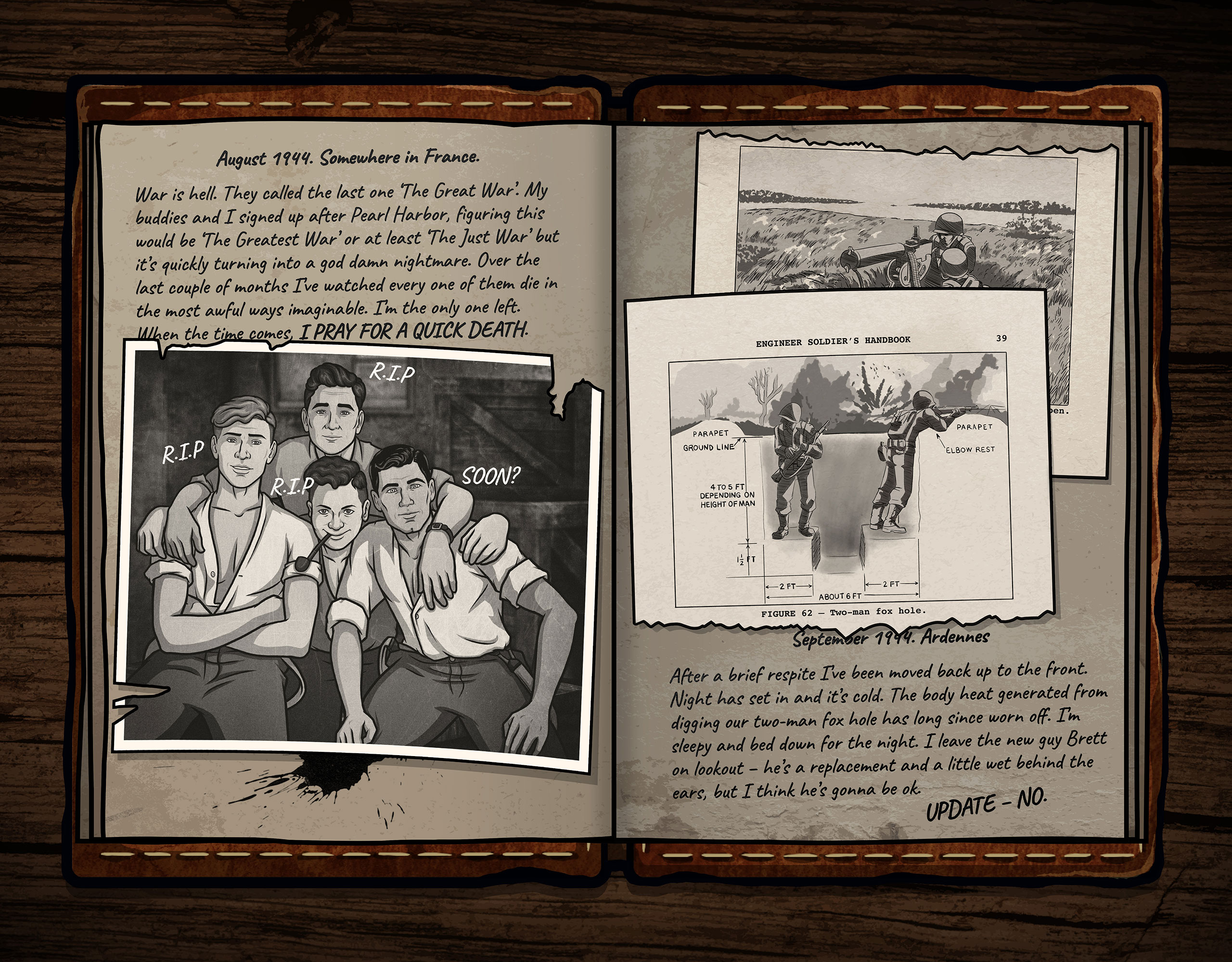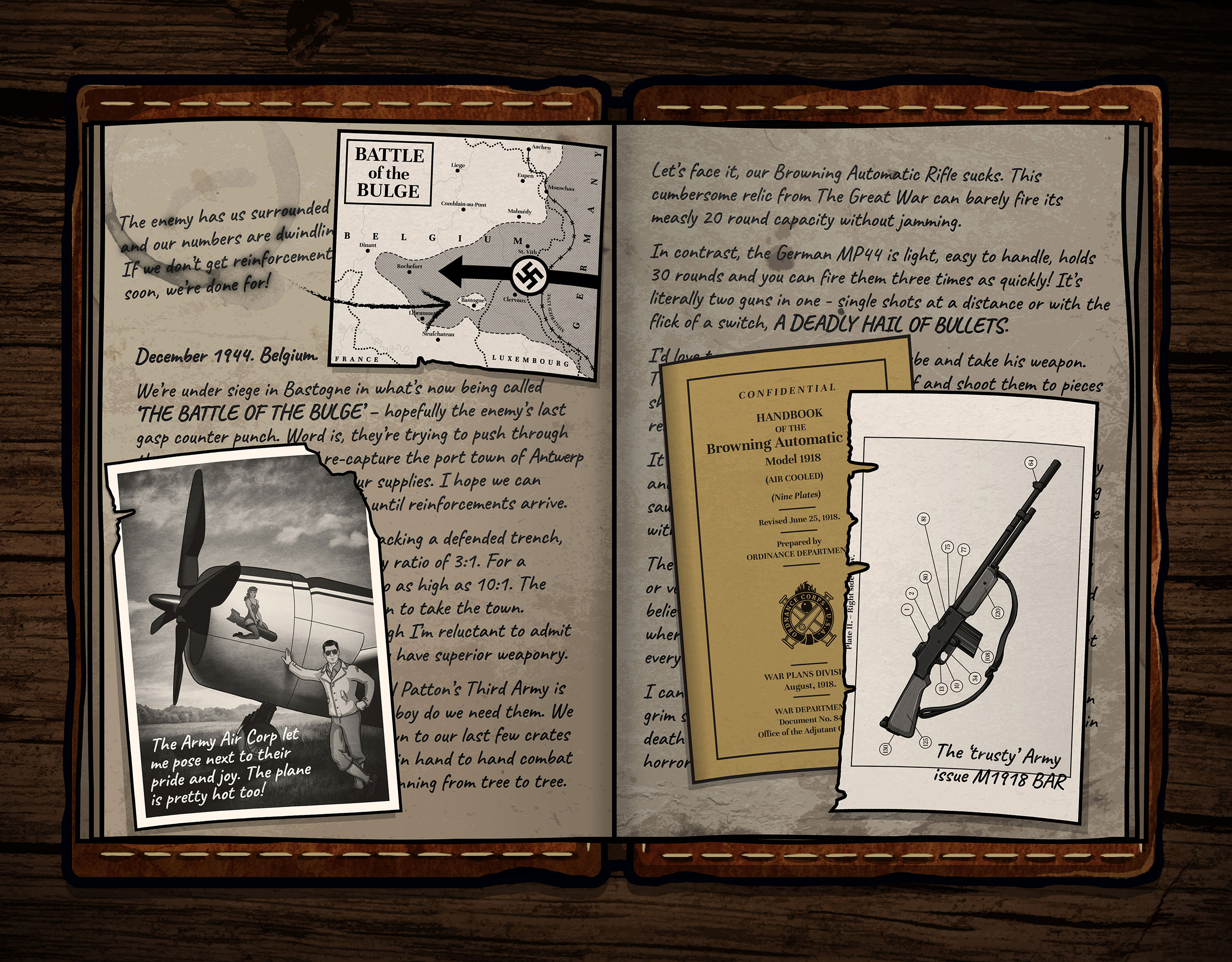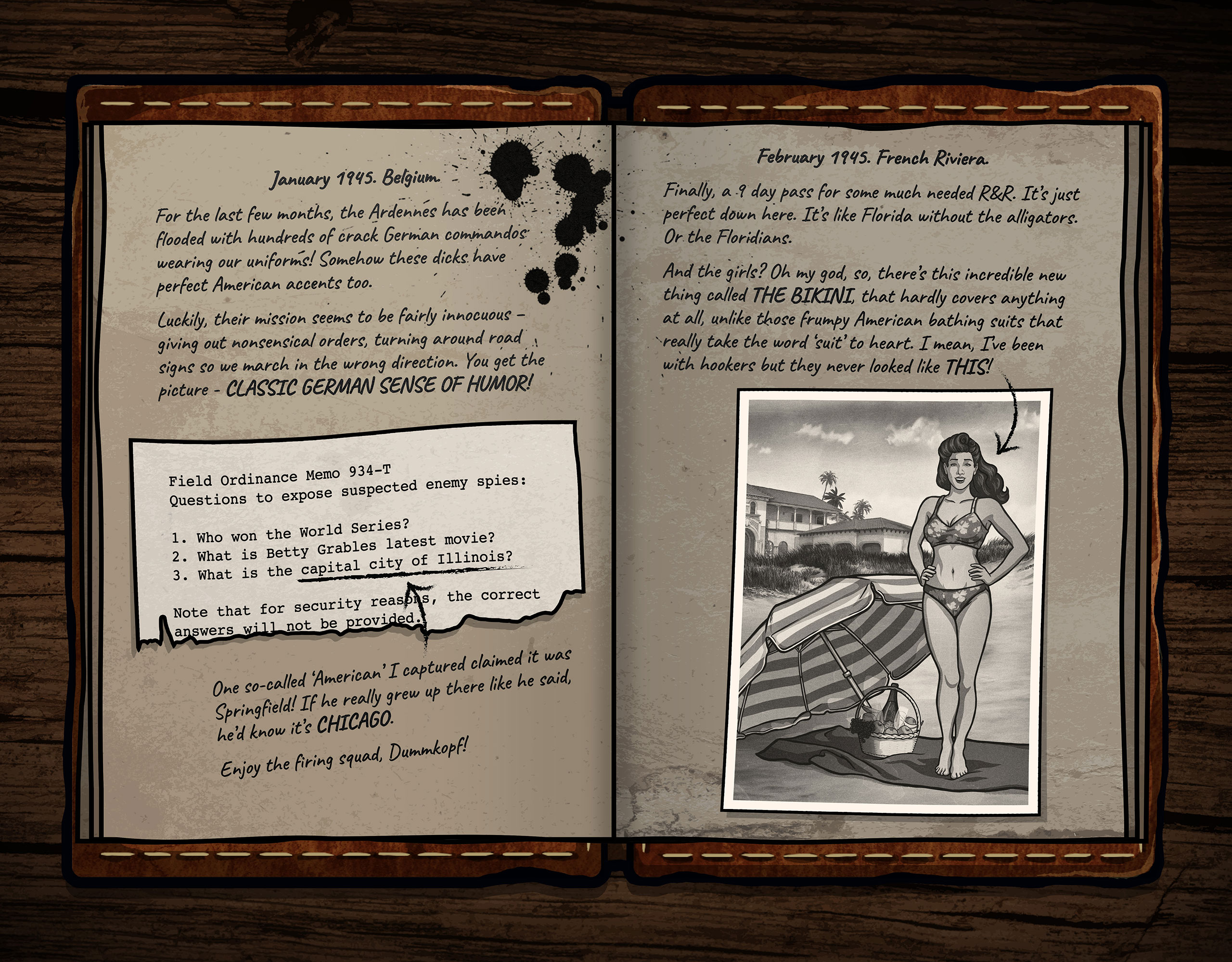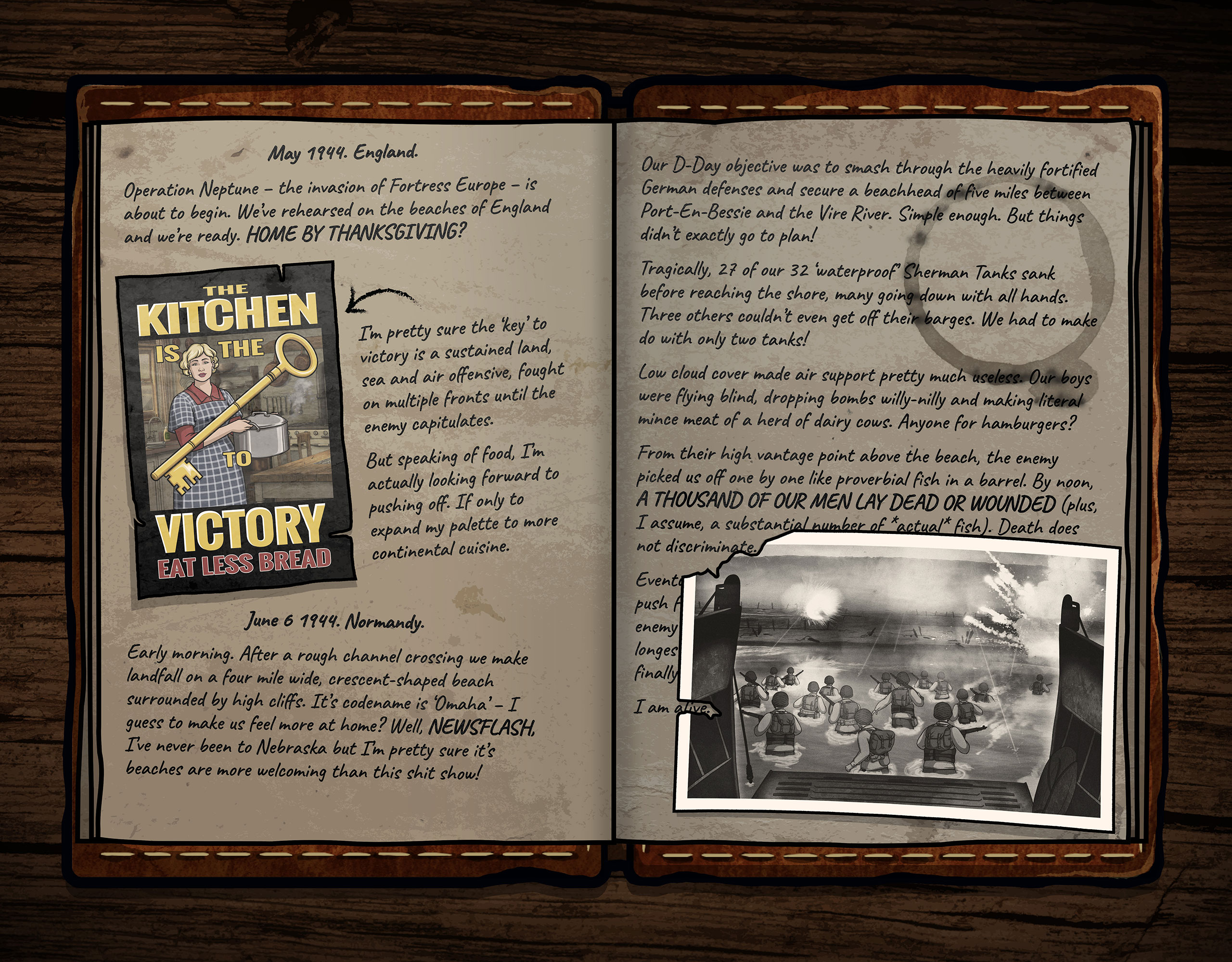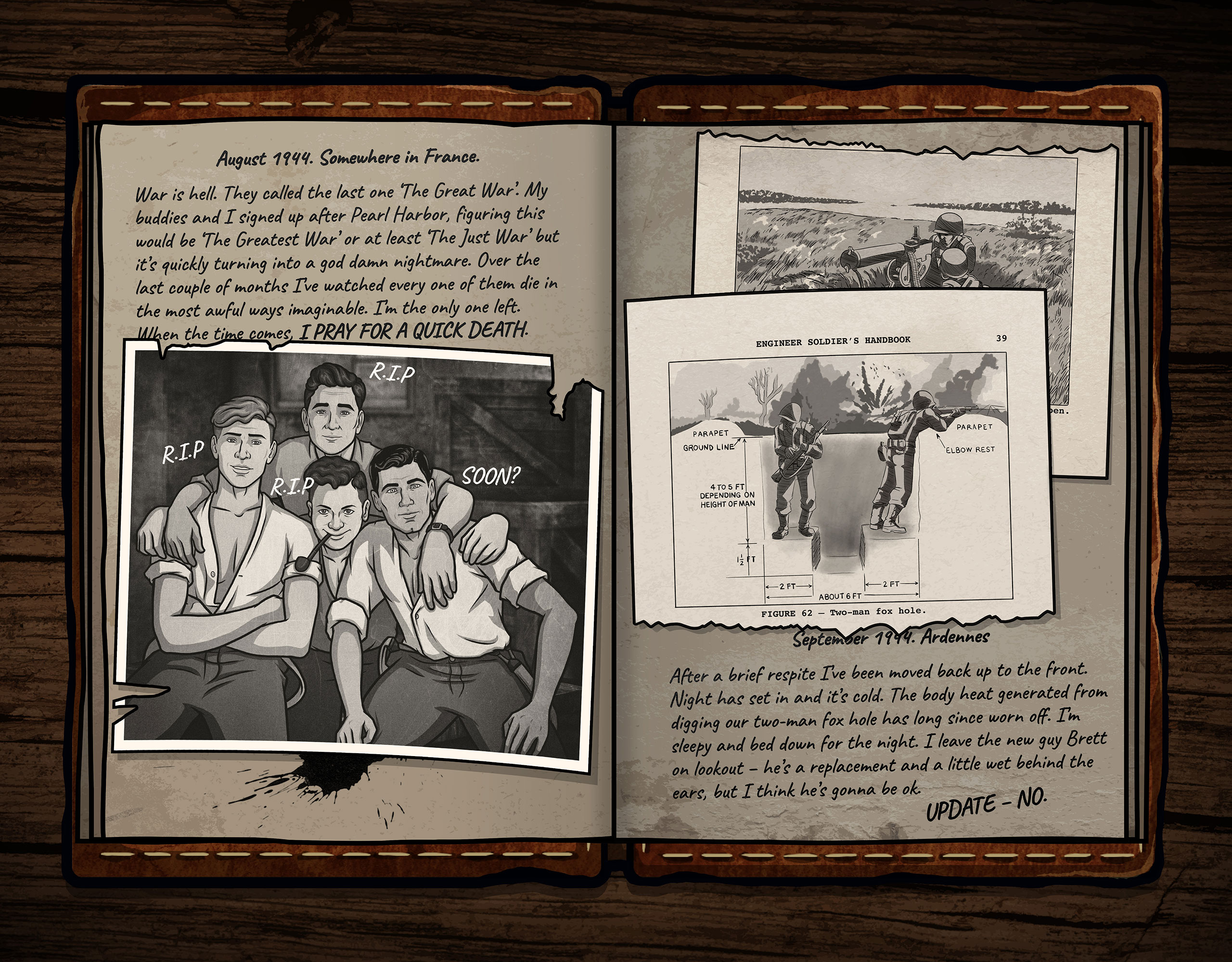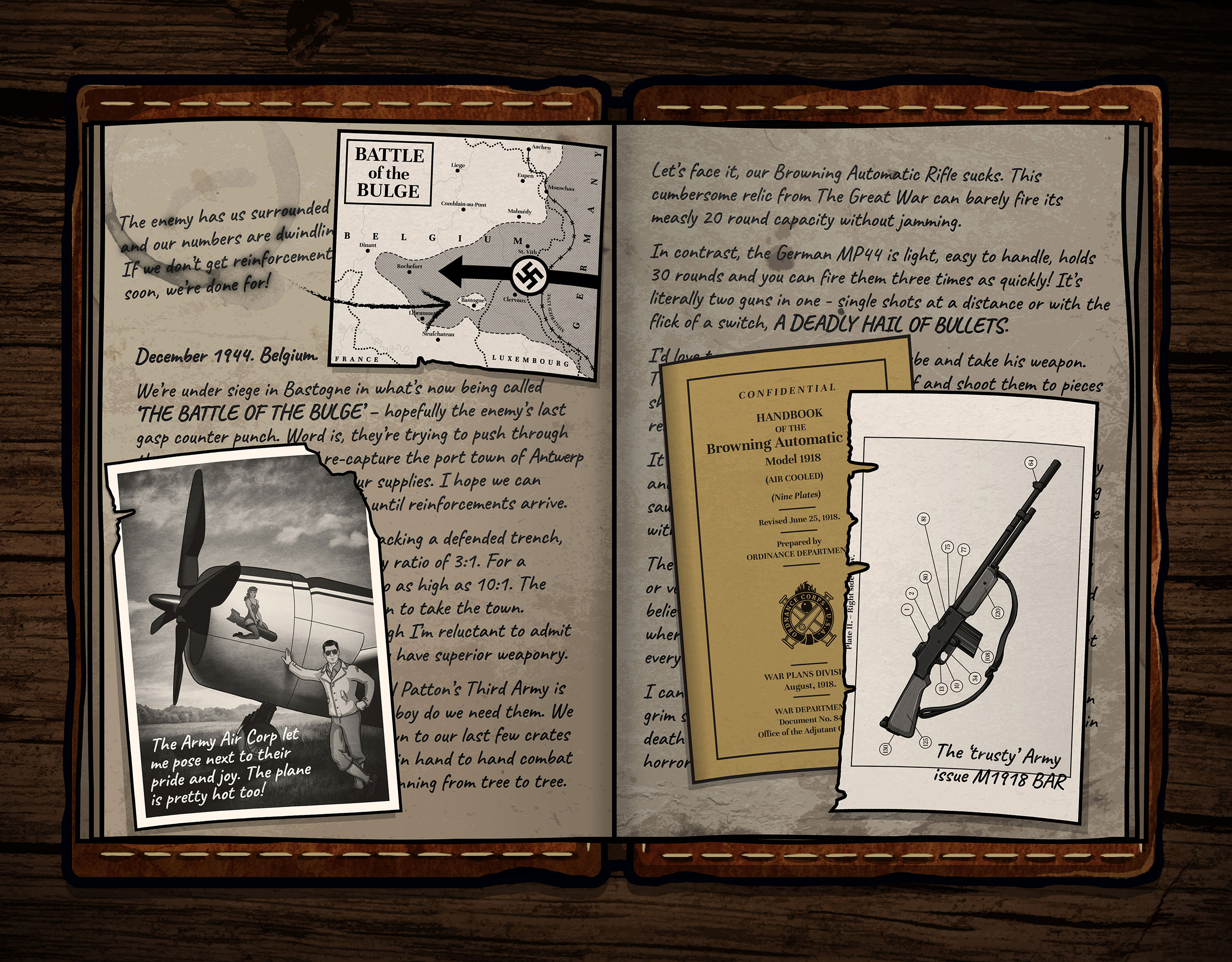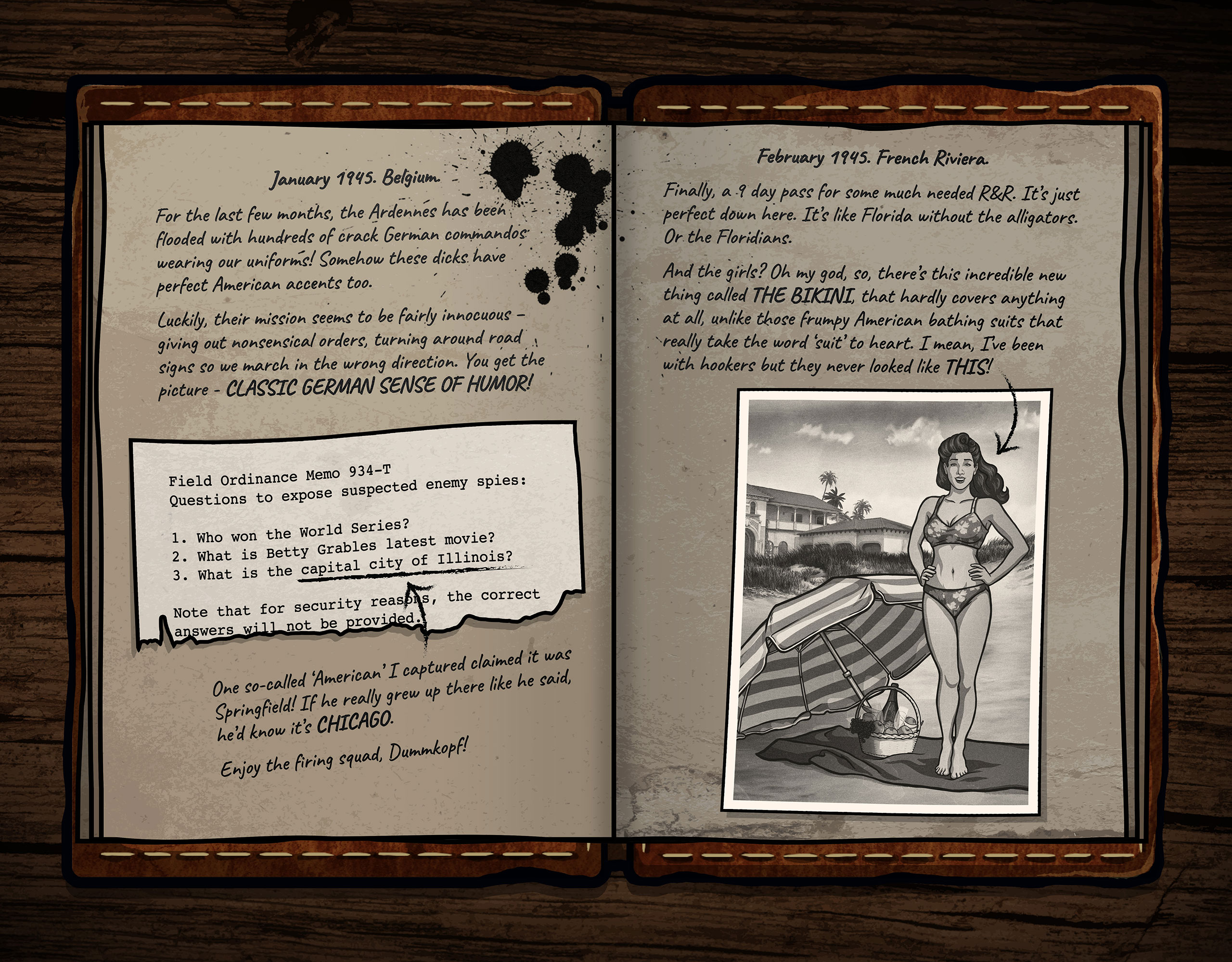 Getting crafty
As an optional bonus feature, various items throughout the game can be downloaded as papercrafts. Once assembled into a 3D model and inspected with the app, hidden surprises are revealed. Here's a few examples, created in collaboration with illustrator Chi Duong Sato.
The new Archer, P.I. augmented reality app is some next level shit.
The Chive
For the dedicated
For eagle-eyed players, codes were hidden throughout the app and the TV show. I devised, designed and coded the website archer.codes where these codes could be redeemed for digital goodies such as wallpaper and ringtones. These rewarded the hardcore gamer that sought a little more challenge and encouraged completists to play again. Anything uncovered could be shared online with simple URLs, helping to promote the app and provide links back to the site.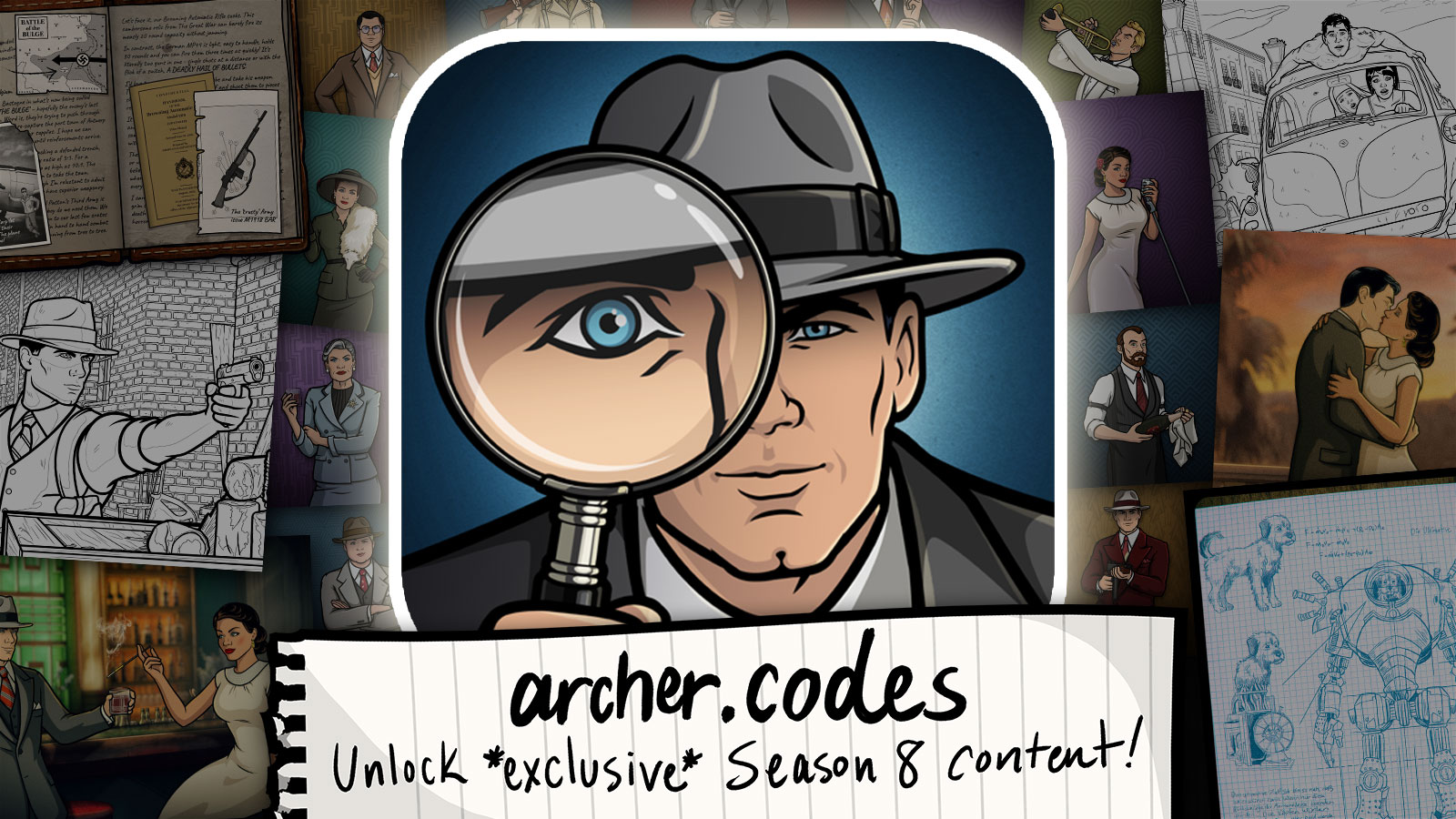 Real-World shenanigans
The AR camera enhances real-world items too, such as promotional material, social media marketing, The Art of Archer coffee table book, and Archer T-shirts, ensuring fans could use the app before the season even started.
By the date of the season premiere, a quarter of our audience had downloaded the app and many were collaborating through forums and chat rooms to solve cases together. The app also encouraged multiple viewings of the show as fans re-watch episodes to collect any clues they've missed. The press raved about the innovative use of technology, changing the way we watch TV by ushering in the next level of audience participation.
Dream team
Above all, I'm just really proud of what we accomplished in such a short amount of time – barely four months from initial prototype to App Store deployment! Archer, P.I. was Floyd County Productions' first app and a truly collaborate effort only made possible by bringing together some of the best and brightest talent the studio has to offer.
While a full list of credits is available on the app, it would be remiss of me if I didn't mention Bryan Fordney (Technical Director), Mollie Brock (Production Manager), Tim Farrell (Level Design), Jen Garcia (Lead Software Engineer), and Chi Doung Sato (Lead Illustrator). Go team!